Benjamin Watts
Executive Minister of the Howard Thurman Center for Justice and Transformational Ministry, Director of the Black Ministries Program, Faculty Associate in Religion and Community Life
Office hours: Monday 1-4 PM
Saturday 10 AM - 12 PM
Email: bwatts@hartfordinternational.edu
Phone: (860) 509-9514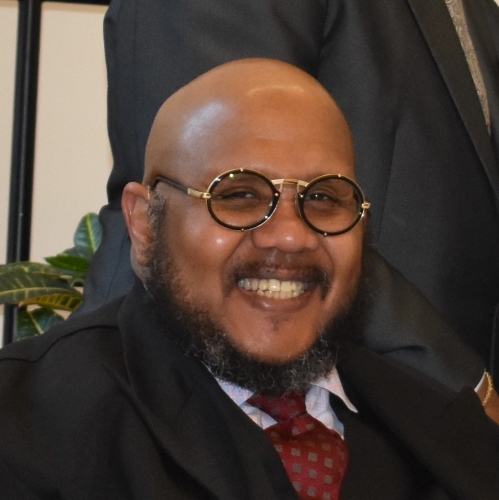 Biography
Bishop Dr. Benjamin K. Watts  is a 1995 graduate of Hartford International University (then Hartford Seminary) where he received the Doctor of Ministry degree with distinction upon submission of the project entitled, "Understanding & Using Africentrism in Strengthening & Revitalizing the Mission of the Black Church: Analysis & Models."
Dr. Watts is a 1986 graduate of Yale University Divinity School where he received his Master of Divinity degree. Dr. Watts completed his undergraduate work at Selma University in Selma, Alabama, and Alabama A & M, receiving a BA in Psychology with a minor in Philosophy.
Dr. Watts is Executive Minister of the Howard Thurman Center for Justice and Transformational Ministry, Director of the Black Ministries Program, and a Faculty Associate in Religion and Community Life. Dr. Watts believes in the notion of living one's liturgy in an applied context. His commitment to research includes spirituality and public life … living faith in the public square. He has worked to understand the relevance of race and culture in marginalized communities beyond their religious hegemony. Dr. Watts is committed to interfaith dialogue, interrelatedness and the notion of the interconnectedness of all living things. This theology transcends the parochialism of the Christian context in which he serves.
Dr. Watts is the Senior Pastor of Shiloh Baptist Church of New London, CT. He was elevated and consecrated to the sacred office of Bishop by the International Bishops Conference in 2008. He is a member of the Churches Covered and Connected in Covenant (CCCC).
Dr. Watts offers courses in the following areas: The Essential Writings of Howard Thurman, Black Theology, Pastoral Counseling, Ministry in a Multicultural World (team taught with Dr. M.T. Winter), and the Art of Preaching.
Background
D.Min (Hartford International University)
M.Div (Yale Divinity School)
B.A. (Alabama A&M University)
Areas of Study
Arts of Ministry
Homiletics
Spirituality