Miriam Therese Winter
Faculty Emerita Director, Master of Arts in Transformative Leadership, and Spirituality Director of the Women's Leadership Institute
Email: mtwinter@hartfordinternational.edu
Phone: (860) 509-9558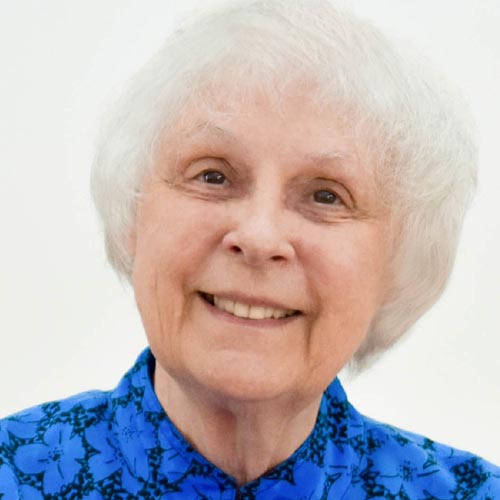 Biography
Miriam Therese Winter came to Hartford International University (then Hartford Seminary) to establish a department of  liturgy, worship, and spirituality. She introduced ecumenical and cross-cultural emphases in theory and in practice, then developed feminist and multifaith approaches that have culminated in a quantum perspective.
Miriam Therese is a Medical Mission Sister. Her award-winning books on biblical women, feminist ritual and spirituality, and more recently, quantum spirituality, are the result of her penchant for exploring new and more authentic ways of living faith fully in a constantly evolving universe. Her scholarship is rooted in what she likes to call the liturgy of life. This is shaped by her multifaceted experiences locally and around the world, especially among those who are powerless and poor, with women who are incarcerated, and with any who are willing to help bring about a more just and peace-filled planet.
While she relishes scholarship and research, Miriam Therese is at heart a singer of songs and a pioneer in introducing folk-style music into Catholic liturgical tradition. Her first recording, Joy is Like the Rain, went Gold in the 1960's, and her Mass of a Pilgrim People was recorded live at its premier performance in Carnegie Hall. Many of her recorded songs continue to be sung by people of faith worldwide. In honor of her contribution to contemporary sacred music, the Sacred Folk Song Project of Saint Bernadette Institute in Albuquerque is compiling  a 5-CD set of more than 100 of her songs sung by performing artists from many faith traditions. The first, Loving You, was released in 2012, and the second Breath of the Spirit, was released in early 2016. Miriam Therese's autobiography, The Singer and the Song, was recently released as an audiobook with narration and songs recorded by Grammy-winning artist Janis Ian.
A former professor at Princeton calls Miriam Therese a metaphorical theologian. To her students, colleagues, and friends, she is simply MT.
Background
Ph.D. (Princeton Theological Seminary)
D.H.L. (University of Hartford)
D.H.L. (Mount Saint Vincent University)
D.H.L.(Saint Joseph College)
D.H.L. (Albertus Magnus College)
Master of Religious Education, (McMaster Divinity College)
Bachelor of Music, (Catholic University of America)
Areas of Study
Liturgy
Worship
Spirituality
Feminist Studies