HIU EVENTS
Greater Hartford Multifaith Prayer Breakfast
November 10, 2022
from 7:00 AM to 8:45 AM

Image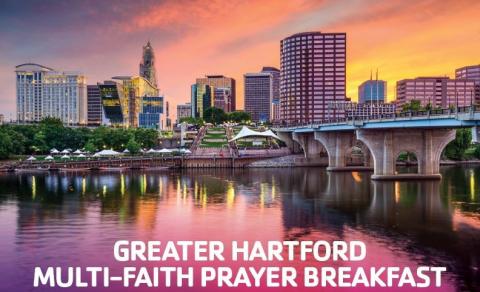 Blessed Are the Peace Makers! Join us for a morning of prayer from many different faith perspectives at the Artists Collective at 1200 Albany Ave., Hartford.
Since 1997 the Greater Hartford Multi-Faith Prayer Breakfast has reached across religious boundaries to find and celebrate those beliefs we share, to pray for the Greater Hartford community and to acknowledge together that our diverse communities need the prayerful support of all of our religious traditions if we are to realize a healthy urban center. Hundreds of people attend, and the event will be face-to-face in 2022 for the first time since 2019.
You can expect good food and coffee, uplifting, spiritual music, and greetings from our representatives in City Hall and the state legislature. Christians, Jews, Muslims, Sikhs, Hindus, Buddhists, the Baha'i community and others have been involved in the planning of the event. 
Our theme for 2022 is "Blessed Are the Peace Makers."
The event is free, but a $10 donation is suggested. This event is supported by the Greater Hartford YMCA and co-sponsored by Hartford International University for Religion and Peace.
PLEASE NOTE: THIS EVENT TAKES PLACE IN PERSON AT THE ARTISTS COLLECTIVE AT 1200 ALBANY AVE., HARTFORD, CT