HIU EVENTS
Wild Spirituality: How Nature Invites Us into the Sacred
October 22, 2022
from 4:00 PM to 6:00 PM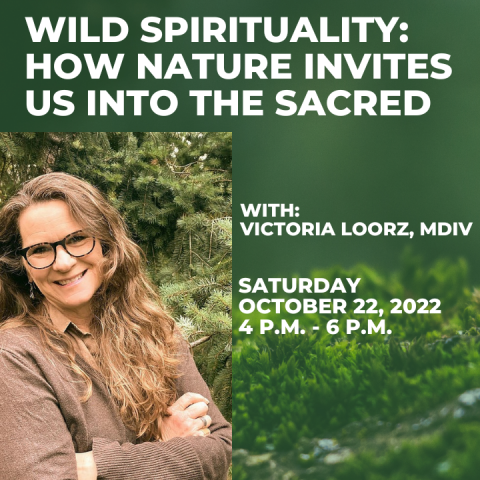 MEET AT 76 SHERMAN STREET, HARTFORD, FOR THIS EVENT
This experiential workshop will be an immersion into a wild spirituality: a chance to explore the sacred fully present and alive within and as the living natural world itself. Our time together will include indoor presentation and discussion, outdoor wander and solo experiential time with the creatures of this place, and debriefing. Bring your journal, and wear clothes and shoes befitting the weather!
About the presenter
Victoria Loorz, M.Div., is a wild church pastor, an eco-spiritual director, and co-founder of several transformation-focused organizations focused on the integration of nature and spirituality. She feels most alive when collaborating with Mystery and kindred spirits to create opportunities for people to re-member themselves back into intimate, sacred relationship with the rest of the living world.
After twenty years as a pastor of indoor churches, she launched the first Church of the Wild in Ojai CA ; co-founded the ecumenical Wild Church Network; and both founded and directs Seminary of the Wild, a deep-dive yearlong Eco-Ministry Certificate program for all those who feel called by Earth and Spirit to expand the Beloved Community beyond our own species.
After the workshop, we invite you to join us for Joy Is Like the Rain/bow: Launching the MT Winter Chair