HIU NEWS
3 Faculty Members Contribute to Book on 'Church of the Future'
August 3, 2022
Image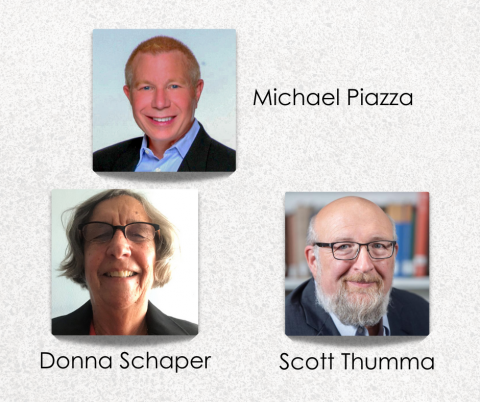 Faculty Associate Michael Piazza has edited a new book with chapters written by Dr. Scott Thumma, Professor of Sociology of Religion, and Faculty Associate Rev. Dr. Donna Schaper.
Hybrid Hope: Church of the Future for Churches with a Future includes wisdom from numerous pastors and professionals. It is intended for religious leaders who are working in a hybrid mode and want to learn better ways to adapt in this time of transition. The book is inexpensive ($4.95) and slim (146 pages) with the intention that it be widely distributed. The synopsis states, "Our hope is churches will be able to provide copies for all their leaders because there has never been a time when it was more important for everyone to be on the same page."
In addition to their roles at HIU, Dr. Piazza is also president of Agile Church Consulting, and senior pastor of Broadway United Church of Christ in New York City; Dr. Thumma is director of the Harford Institute for Religion Research at HIU; and the Rev. Dr. Schaper is senior consultant at Agile Church Consulting and Bricks and Mortals.
Image