HIU NEWS
Chaplain Aida Mansoor to Be Inducted into Immigrant Heritage Hall of Fame
July 6, 2022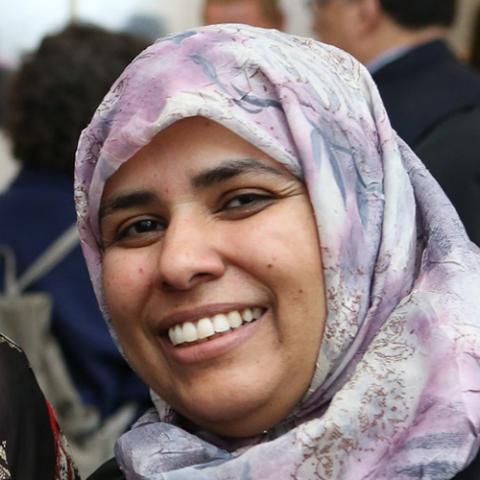 Chaplain Aida Mansoor, HIU's Director of Field Education and a proud alumna of our Islamic Chaplaincy Program, will be inducted on July 14 into the Immigrant Heritage Hall of Fame.
Aida is one of four inductees in what the Hall of Fame is calling the "Year of the Woman." Her fellow inductees include:
Judith Altman, an educator, human rights activist, and Holocaust survivor
Marilda Gandara, a corporate attorney, business and philanthropic leader
Dr. Radenka Maric, University of Connecticut interim president
The Immigrant Heritage Hall of Fame's core principle is "that, as a nation of immigrants, the heritage of all immigrant and ethnic communities is part of our common American identity and culture."
"We are very pleased to recognize this inspiring group of individuals who embody the kind of perseverance, commitment to excellence and notable achievement that have made our world a better place," said Demetrios Giannaros, president of the National Immigrant Heritage Center, based in New Britain, CT.  "They are truly remarkable, and their contributions serve to motivate and encourage future generations to excel."
Aida Mansoor was born in London to Sri Lankan parents. She is Past President of the Muslim Coalition of Connecticut and a member of its Executive Board, as well as Director of Field Education for Hartford International University for Religion and Peace. With Masters' Degrees in Community Health and Christian-Muslim Relations, and an Islamic Chaplaincy Certificate, she has been presenting about Islam since 1999. She has previously been honored with the Human Relations Award from the National Conference for Community and Justice."
"This is such a great honor to be inducted with such amazing and incredible women," she said.
The induction event on July 14 will include keynote speaker Angelina Gadeliya, Professor of Piano and Coordinator of Keyboard Studies at UConn who is a native of Georgia and moved to the U.S. from Ukraine in 1990. 
Congratulations, Aida!