HIU NEWS
Dr. Walter E. Fluker to Receive Freedom of Worship Award
May 22, 2023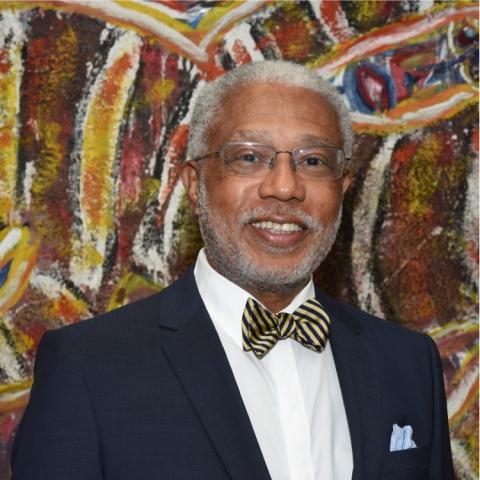 Dr. Walter Earl Fluker, Distinguished Professor of the Howard Thurman Center at HIU, is among the recipients of the 2023 Four Freedoms Awards presented by the Roosevelt Institute. 
The following is from a Roosevelt Institute press release:
Modeled after FDR's historic 1941 speech to Congress, the Four Freedoms Awards honor Franklin and Eleanor Roosevelt's legacies with one overarching Freedom Medal and four awards to those who exemplify core freedoms that uphold our democracy: freedom of speech and expression, freedom of worship, freedom from want, and freedom from fear.
Dr. Fluker is the recipient of the Freedom of Worship Award:
Dr. Walter Earl Fluker, who in addition to his role at HIU is the Martin Luther King, Jr. Professor Emeritus of Ethical Leadership at Boston University, and Dean's Professor of Spirituality, Ethics, and Leadership at Emory University, Candler School of Theology, will be honored for carrying on the legacies of Dr. Martin Luther King, Jr. and Howard Thurman — from helping students navigate the ethical questions of today to being a thought leader for Black churches.
The Four Freedoms Awards ceremony (which is free and open to the public) will take place on Sept. 23 in Hyde Park, NY, home of the Franklin D. Roosevelt Presidential Library and Museum.
"I am honored and deeply humbled by The Roosevelt Institute's selection of me as the 2023 Freedom of Worship awardee," Dr. Fluker says. "It is an honor that I share with all those who have worked closely with me over the years.  In the words of Howard Thurman, 'It is a crown placed over my head that I will spend the rest of my life trying to grow tall enough to wear.'"
Other awardees include: 
Freedom Medal: The Honorable Nancy Pelosi.
Freedom of Speech and Expression: Tracie Hall.
Freedom from Want: Ady Barkan.
Freedom from Fear: The Honorable Bennie Thompson.
Read the press release.