HIU NEWS
Emerita Professor MT Winter to Celebrate 25 Years of the Women's Leadership Institute
September 27, 2023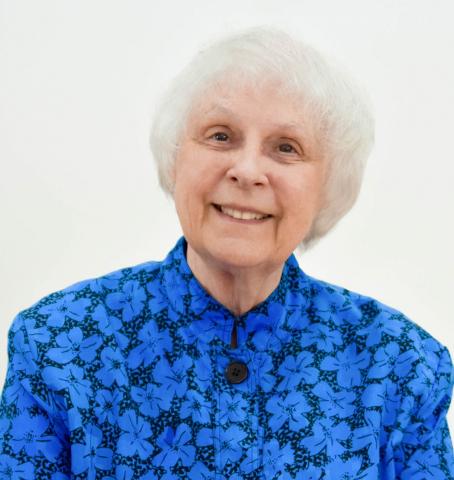 Hartford International University for Religion and Peace will host an online celebration of 25 years of the Women's Leadership Institute (WLI) and look to the future via Zoom on Wednesday, Oct. 18, from 7 p.m. to 8:30 p.m. 
WLI's founder, Emerita Professor Miriam Therese Winter, has returned to Philadelphia to live with her fellow Medical Mission Sisters and to continue her writing and music projects. During this online session, Dr. Winter will look back on the goals of WLI and celebrate how they were met over its quarter-century lifespan. 
"Our time at HIU has come to fulfillment," Dr. Winter said. "But I'll be connected still. And what's going to be continuing is the WLI alumni group. I want to keep it vibrant and alive." 
Dr. Winter came to Hartford International University in the early 1980s to establish a department of liturgy, worship, and spirituality. For 10 years, she ran a program called Women, Word, and the Church that brought large crowds for an annual weekend of arts and worship. In 1996, she started WLI, which has produced hundreds of graduates, many of whom called it life-changing.  
Known worldwide as a singer-songwriter, Dr. Winter was a pioneer in introducing folk-style music into Catholic liturgical tradition. Her first recording, Joy is Like the Rain, reached gold status in the 1960s, and her Mass of a Pilgrim People was recorded live at its premier performance in Carnegie Hall. Many of her songs continue to be sung by people of faith worldwide. 
Dr. Winter is also widely known as a feminist theologian. Her scholarship is rooted in what she likes to call the liturgy of life. She has a Ph.D. from Princeton Theological Seminary and has written more than a dozen books, including her autobiography, The Singer and the Song. The audiobook for The Singer and the Song was recorded by Grammy Award-winning artist Janis Ian.  
During Dr. Winter's tenure at HIU, funds were raised to endow a chair in her name. The holder of the Miriam Therese Winter Chair in Transformative Leadership and Spirituality is Dr. Lisa Dahill, who joined HIU in 2022.  
Dr. Dahill has continued in the legacy that Dr. Winter established by offering programs that center interreligious studies in the love of Earth. As the Director of the Center for Transformative Spirituality founded by Dr. Winter, Dr. Dahill has been offering events highlighting eco-spirituality; contemplative arts and art-making; personal and communal maturity, resilience, and courage in the face of daunting ecological crises; and diverse forms of spiritual expression for those within and beyond the HIU community. Learn more about those efforts at this link.
We request that WLI graduates share this information with those in their class so that we can gather as many of you as possible.