HIU NEWS
Hartford International Signs MOU with University in Indonesia
September 15, 2023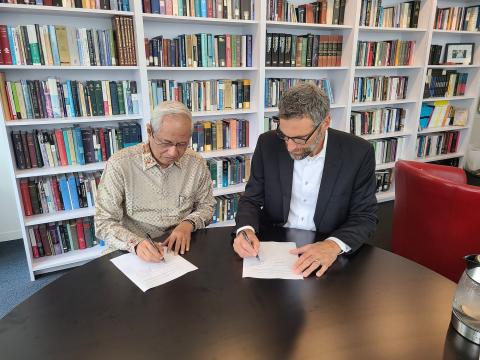 Hartford International University for Religion and Peace has signed a Memorandum of Understanding (MOU) with PTIQ University of Jakarta in Indonesia.
The agreement aims to strengthen academic cooperation and promote mutual understanding between the two institutions.
The areas addressed include:
Exchange of academic lecturers
Exchange of students
Exchange of scholarship among Bachelor's, Master's, Ph.D., and Magister students
Research cooperation
Organization of academic meetings and conferences
Exchange of sources of information and education, as well as scientific and academic material
Collaboration in developing academic programd and plans.
The agreement was signed by Professor H.M. Darwis Hude and President Joel N. Lohr.
A contingent of seven scholars from Indonesia arrived earlier this month. They will work with faculty advisors on their research, visit local field education sites to experience American civil society, and engage with the HIU campus community.