HIU NEWS
HIU Community Mourns the Passing of Catherine 'Ineke' Bijlefeld
February 23, 2023
Catherine "Ineke" Bijlefeld, wife of the late Willem "Wim" Bijlefeld, passed away in January in Stafford Springs, CT, at the age of 92.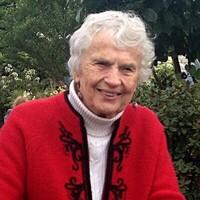 According to her obituary, Ineke was born in The Netherlands, one of 12 children. She married Wim when he was a theology student of her father's, and they were together until Wim's death in 2013. They had four daughters -- Astuti, Wilhelmina, Joke, and Marjolijn.
Ineke spent 24 years with Wim in Hartford, over which time he was Professor of Islamic Studies, Academic Dean, Editor of The Muslim World, and founder and director of the Macdonald Center for Islamic Studies and Christian-Muslim Relations. Over that time, they were known for being gracious and welcoming hosts to students, faculty and visitors from around the world.
Ineke was also a social worker at Avery Heights retirement community in Hartford.
The family plans to host a live and virtual tribute to her life.
To read the full obituary, click here