HIU NEWS
HIU Mourns the Passing of Ambassador and Former Trustee Eliot 'Bang' Williams
November 9, 2022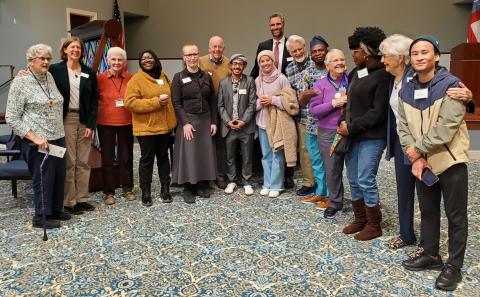 The HIU community deeply mourns the loss of Ambassador and former Trustee, Eliot "Bang" Williams, who passed away earlier this month.
Bang was a Trustee from 2009-2018, then quickly stepped into another volunteer role as an HIU Ambassador. He was actively engaged in events and programs, meeting with our MA in International Peacebuilding students in late October when the group traveled to Seabury, a retirement community in Bloomfield where Bang lived with his wife Sue. (He is seen in the back row of this group picture to the left of President Joel N. Lohr.)
Known for his infectious smile and gracious manner, Bang always brought a positive spin to any challenge.
President Lohr said, "I am not sure I know a kinder man than Bang. He was also one of the reasons I wanted to come to Hartford when I was being interviewed. I distinctly remember him sharing his story of faith with me and him taking a real interest in mine."
Katy O'Leary, HIU's liaison with the Ambassadors, said, "Bang was 'all in' as an HIU Ambassador. What a bright light he was!"
The Board of Trustees remembered Bang with a moment of silence at its recent meeting on Nov. 7.
An obituary with information about services has not yet been published, but HIU will share that information as soon as it's available.
Image