October 8, 2021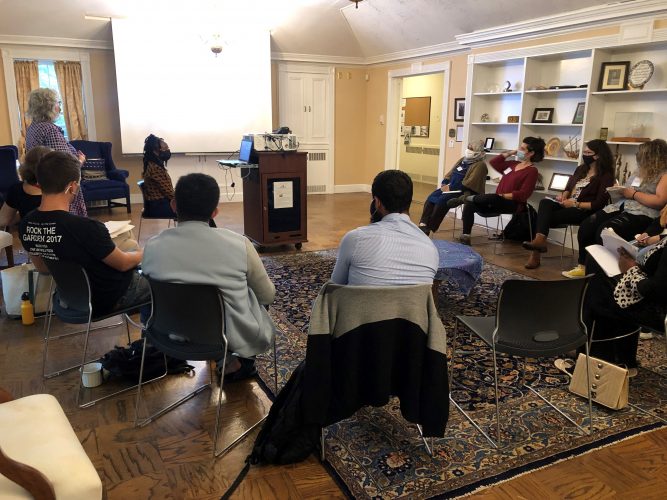 Nine students in the inaugural cohort of Hartford Seminary's MA in International Peacebuilding arrived on campus in August and immersed themselves immediately into orientation activities. One of those activities was an introduction to the CT Center for Nonviolence, which "promotes a comprehensive framework for conflict reconciliation and coalition building rooted in the philosophy and practices of Dr. Martin Luther King Jr. and the civil rights movement."
The center's founder and executive director, Victoria Christgau, gave the students an overview of the center's work. She talked about the roots of Dr. King's interest in nonviolence, stemming from his introduction in college to thinkers such as Mahatma Ghandi and Henry David Thoreau, as well as his distillation of these ideas into his own way of using nonviolent protest for social change.
The center provides a variety of services and programs, including Kingian Nonviolence training, a Youth Nonviolence Leadership curriculum, and community arts-based projects. The center brings its training into places such as schools, police departments, and community organizations, among others.
Peacebuilding student Mbeki Yunana of Nigeria asked how the center measures the effectiveness of its work, and Christgau responded that trainers use various methods, such as measuring participants' sensitivity to violence and understanding of racial struggles both before and after training. She also stressed that nonviolence is "a practice, not an end result."
Peacebuilding students then had a chance to respond to the center's approach.
"I was inspired by the idea that change starts from within," said Abdelwaheb "Abdou" Moujahed of Tunisia.
"In my context it is not just about non-violence, it is about compassionate forgiveness and healing of trauma caused by inter-religious conflict," said Yohanes Parihala of Indonesia.
Students in the program are from the U.S., Indonesia, Greece, Tunisia, Pakistan, and Nigeria.