HIU NEWS
President Lohr Participates on Expert Panel for Holocaust Film Discussion
September 23, 2022
Image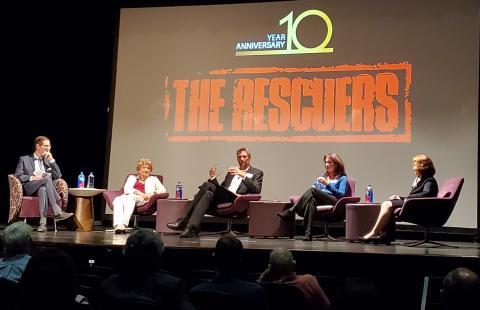 President Joel N. Lohr was one of the expert panelists participating in a discussion on Thursday, Sept. 22, following a showing of "The Rescuers" at the Mandell JCC in West Hartford.
The event commemorated the 10th anniversary of the film, which reveals the stories of 13 heroic diplomats who saved the lives of thousands of Jews during World War II. These stories were traced through the journey of Rwandan anti-genocide activist Stephanie Nyombayire and renowned 20th century and Holocaust historian Sir Martin Gilbert, who traveled across 15 countries and three continents interviewing survivors and descendants of the diplomats. The Rescuers evokes in the viewer the inherent good humans can have even in the most challenging times. 
The theme of the post-film discussion was "The Mystery of Goodness: What leads one person, and not another, to do the right thing regardless of the consequences they may face?"
President Joel shared that his grandmother, who lived in Holland during the war, helped hide Jews. While she was still alive, Joel pressed her on why, to which she insisted, "It's just what you do."
Other panelists included: 
Debórah Dwork, Ph.D., Director, Center for the Study of the Holocaust, Genocide, and Crimes Against Humanity The Graduate Center — City University of New York
Dr. Stephanie Fagin-Jones, clinical psychologist, Adjunct Associate Professor of Psychology at Columbia University Teachers College, and a Holocaust heroism science scholar
Dr. Sylvia Smoller, Scientist, writer and Holocaust Survivor
Moderator Avinoam J. Patt, Ph.D. , The Doris and Simon Konover Chair of Judaic Studies and Director of the Center for Judaic Studies and Contemporary Jewish Life at the University of Connecticut.