HIU NEWS
Professor Amy-Jill Levine Receives Prestigious UK Award
December 6, 2022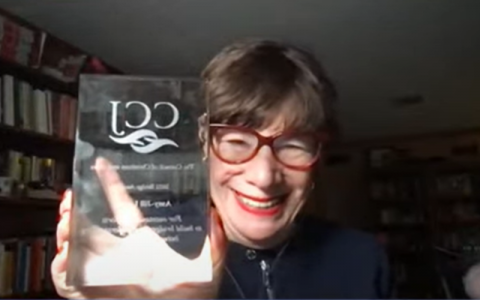 Professor Amy-Jill Levine has been awarded the highly prestigious Council of Christians and Jews (CCJ) Bridge Award in the United Kingdom, an award given annually to "somebody who ... has made an exceptional and leading contribution to building bridges between people in particular, but not exclusively, in a Jewish-Christian setting."
The CCJ in the UK was set up during the Holocaust by the Archbishop of Canterbury, William Temple and the Chief Rabbi of the UK, Rabbi Joseph Herman Hertz. The idea was to bring Christians and Jews together locally to meet and form friendships as a way to counter possible fascist ideologies. "The Bridge Award was introduced in 2017 when CCJ was celebrating its 75th anniversary," said Rt. Rev. Dr. Michael Ipgrave, Chair of Trustees, during the online ceremony. 
Recent Bridge Award winners include HM The King; the late former Secretary of State Madeleine Albright; and Lord Rothschild. Previous winners also include Rabbi Lord (Jonathan) Sacks, Chief Rabbi from 1991-2013, and the Smith family for their work on Holocaust education.
A widely praised New Testament scholar, Dr. Levine is Hartford International's Rabbi Stanley M. Kessler Distinguished Professor of New Testament and Jewish Studies. She has worked in the UK for Catholics, British Methodists, Anglican Communion, and the free church tradition contributing to Jewish-Christian understanding.
One of the speakers to congratulate Dr. Levine was His Grace Justin Welby, Archbishop of Canterbury, England, who said, "Thank you, Professor Amy-Jill Levine for all your work in New Testament studies for challenging Anti-Judaism. You've had the courage to be a Jewish scholar of the New Testament, putting a forensic spotlight on how our preaching and teaching so often compounds and develops the lies, distortions, and errors that dishonour the Jewish tradition. We are in your debt for helping us to be better Christians for our Jewish neighbours." 
On receiving the award, Dr. Levine said, "The work of CCJ in the UK is an inspiration to many, and I'm honored to receive this award."
Dr. Levine is a popular speaker and educator and author of dozens of books and articles on the New Testament, the historical Jesus, and Jewish-Christian relations, including most recently, The Bible With And Without Jesus: How Jews and Christians Read the Same Stories Differently (HarperCollins, 2020, with Marc Zvi Brettler) and The Pharisees (Eerdmans, 2021), co-edited with Joseph Sievers. Her study Bible, The Jewish Annotated New Testament, jointly edited with Marc Zvi Brettler, is a landmark of scholarship and consulted widely by Christian preachers around the world. In 2019 she was the first Jew to teach New Testament at Rome's Pontifical Biblical Institute and in 2021 she was elected to the American Academy of Arts and Sciences. She has given over 500 lectures on the Bible, Christian-Jewish relations, and Religion, Gender, and Sexuality around the globe. 
Find a recording of the award ceremony at this link.