HIU NEWS
Spiritual Life Center Blesses New Home on Hartford International Campus
September 11, 2023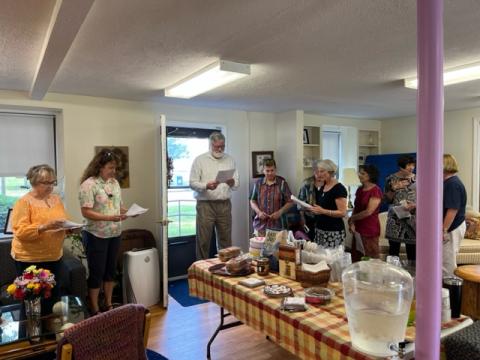 The Spiritual Life Center, which has had three previous Hartford-area homes in the last 41 years, now has a fourth home on the campus of Hartford International University for Religion and Peace.
The SLC is renting space at 76 Sherman Street, which is also the home of the Center for Transformative Spirituality founded by HIU Professor Emerita Miriam Therese (MT) Winter, now run by Dr. Lisa Dahill. The Connecticut Council for Interreligious Understanding rents space in the building as well.
On Saturday, Sept. 9, the SLC hosted a "Bridging Ceremony," which involved thanking and saying good-bye to its former space at Holy Family Monastery in West Hartford, where it was located for 14 years. The second part of the ceremony took place at 76 Sherman St., where the new spaces were acknowledged for their prior uses and blessed for the future.
While Professor Winter, who has returned to Philadelphia to live with the Medical Mission Sisters, could not attend in person, her presence was felt throughout the event. In her remarks, SLC Executive Director Nancy Benben talked the blessing of using the same space where the Women's Leadership Institute (WLI) was based for 25 years.
"There is such beautiful energy that has come here from MT Winter and WLI," she said. "The Women's Leadership Institute changed my life. MT not only impacted me, she opened my eyes to the feminine divine."
Guests at the Bridging Ceremony heard blessings in each room. Spaces throughout the two-story building will be used to offer individual spiritual companioning, to host group spiritual companioning, and for training. Events and workshops, some sponsored solely by SLC and others co-sponsored with HIU's Center for Transformative Spirituality, will also take place at 76 Sherman.
Dr. Dahill welcomed the SLC to the space and thanked them for bringing a "spirit of creativity, listening, and awe." She pointed out that the HIU campus has six acres of lawn and seven acres of riparian woods. The labyrinth behind 76 Sherman "is not the edge of our campus but the center," she said.
"Our community isn't just the humans. It's the bears, the bobcats, the trees, the river itself. We are entering their ongoing prayer," she said. "And we're grateful for the partnership with you."
Image