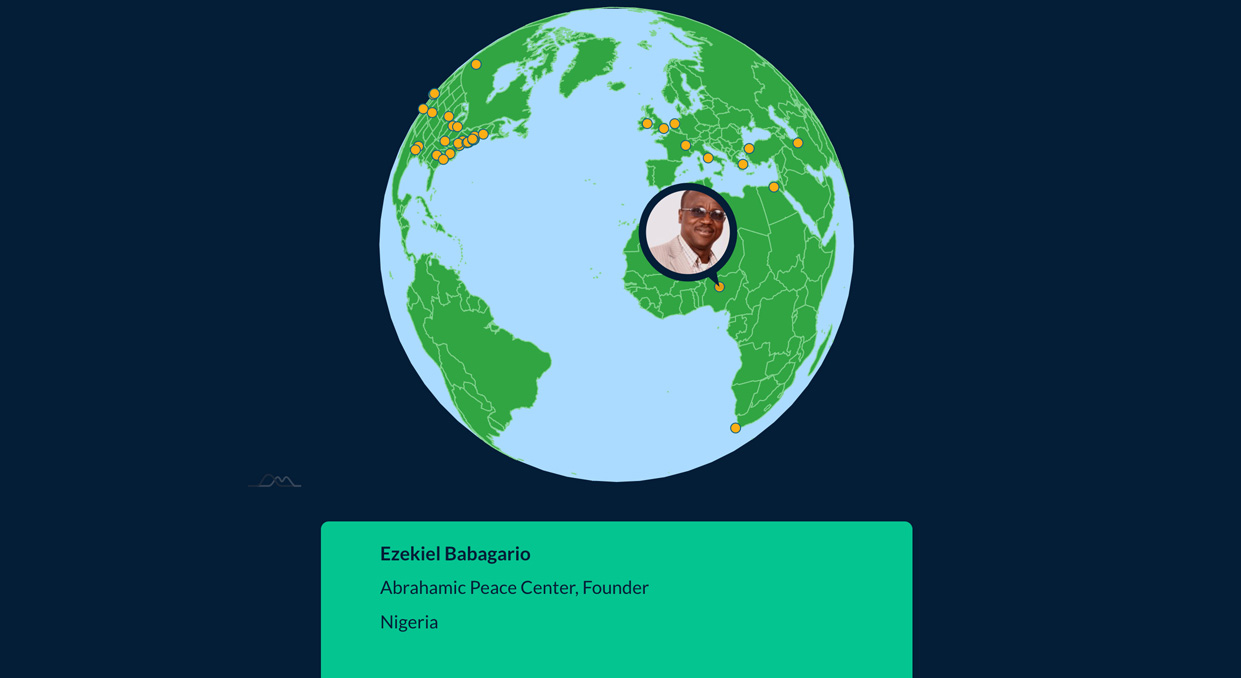 Hartford International University strives to maintain a continuing relationship with our alumni/ae.
We are always happy to answer your questions, address your concerns, and hear your comments.
You may reach us at (860) 509-9528 or by email at alumni@hartfordinternational.edu.
Check out our interactive globe with mini profiles of alumni around the world! If you would like to be added, please email Susan Schoenberger at sschoenberger@hartfordinternational.edu
Our Amazing Alums
Ask any HIU alum about what they do, and you're sure to get a great story. Our incredible graduates are running nonprofits, leading congregations, working as chaplains in a huge variety of settings, and building peace around the world.In 2022, we started a web series called "Inspired with Liz," in which Communications Coordinator Liz Ryan interviewed students and alums to ask them about their training and their work. Please enjoy these YouTube links, and further below, some of the written stories about our amazing alums and their impact on the world.

Heather Brubaker, MA in Chaplaincy student
Denise Wolferman and Abdalrahman Moustafa, Jewish and Muslim chaplaincy students 
Jamie Johnson, Cooperative M.Div. graduate '21
Jeremy Schulz, Cooperative M.Div. graduate '18
Mbeki Yunana, MA in International Peacebuilding, '22
Marni Loffman, MA in International Peacebuilding, '22
---
Jason Fredlund '21 Hits the Road to Work Toward Justice
When Jason Fredlund, MA '21, parked his vintage RV on a side street in Brooklyn, NY, earlier this year, it marked the beginning of a new chapter for his life and ministry.
As a Racial Justice Educator & Equity Consultant, most of Jason's work is virtual these days, but the RV gives him the option to travel — working "remote" from anywhere. It means that he can drive into a community and explore, make connections, build relationships, and "dwell among" the folks he's working with. That side street in Brooklyn where he "urban-camped" for five days was around the corner from the church where he co-facilitated a racial justice retreat. Traveling and staying in the RV was cost-effective, and it meant he could be more intentional about his relationship with the church, worshiping together on Sunday after the retreat was over, having lunch with one of the co-pastors, and attending a small group gathering the following day. 
Rev. Dr. Shelley Best '10 Named One of Connecticut's Great Innovators
The Rev. Dr. Shelley Best, D.Min. '10, has been highlighted as one of 11 innovators in the inaugural "Innovators Issue" published by The Hartford Business Journal and New Haven Biz. The selected are "individuals from diverse backgrounds and fields who are change-makers -- helping to improve the lives of people, shape industries, and bring new or better solutions to age-old problems." The publication "recognizes talents from a range of disciplines including the arts, real estate, venture capital, entertainment, business, life sciences, philanthropy, and more."
Rev. Dr. Sheila Harvey '07 to Chair Alumni Council, Join Board of Trustees
The Rev. Dr. Sheila Harvey is an ordained, full-time pastor of Union Congregational United Church of Christ in West Palm Beach, Florida. Currently, Rev. Dr. Harvey sits on state and national non-profit boards to further serve others. Before joining Union, she served as a full-time chaplain for several years. She also has more than two decades of combined ministry experience in Florida, Connecticut, and Washington, D.C.
MAP Alumni Collaborate for Peacebuilding
Back in 2020, MAP alum Imbran Bonde '22 founded Rodo nDaya, a library for his community in Poso, Indonesia on Sulawesi. He had the belief that there was a correlation between children learning about the world through literature and reducing conflict in an area known for violence between Muslims and Christians.
Recently, Imbran began a class for Christian and Muslim kids and has been collaborating with fellow MAP alum Fatima Basharat '22 to talk with the Christian children about Islam.
MAP Alum Yazeed Kamaldien to Participate in Odyssey Fellowship
MAP alum Yazeed Kamaldien has been selected to participate in the year-long Odyssey Fellowship, which will start with its first session at Rose Castle in England in August. The program seeks to support and train the fellows as emerging faith leaders working in communities "to engage difficult civic issues and provide resources for seminaries to meet the growing needs of contextual education. Engaging the immersive power of documentary film, Fellows convene brave and healing conversations across lines of difference within their community, resulting in faithful actions inspired by their leadership."
Guat Kwee See '07 Helps Launch Centre For Interfaith Understanding in Singapore
The Centre for Interfaith Understanding (CIFU), an interfaith initiative providing an inclusive space and critical engagements that bridge theory and practice on interfaith issues, launched virtually on Oct. 30, 2020, with Guat Kwee See, MA '07, proudly looking on.
Guat, who has kept in close touch with Hartford International University since her time here studying Christian-Muslim relations, is the first chairperson of CIFU with Founder Mohamed Imran, a known interfaith advocate in Singapore, as vice-chairperson. Its 10 founding members, prominent interfaith advocates and bridgebuilders in Singapore, are Christian, Muslim, Bahá'í, Buddhist, Hindu, Sikh, and Humanist.
Singapore is one of the most diverse countries when it comes to religious faiths. CIFU plans to develop programs in interfaith leadership, help strengthen the fabric of society, and bring interfaith discourse in Singapore to greater heights, with greater appreciation of diversity, challenging assumptions and stereotypes, and finding common ground, all things Guat enjoyed learning in Hartford. Read more
Rev. F. Lydell Brown '97 Appointed President and CEO of The Conference of Churches
Black Ministries Program (BMP) alum Rev. F. Lydell Brown '97 once heard from a mentor, "God didn't call you to be successful; he called you to be faithful."
Lydell's faithfulness resulted in 30 years of pastoring, a 20-year successful performance as Chief Operating Officer of The Conference of Churches (TCC), Interim CEO, and his recent appointment as permanent President & CEO, succeeding Rev. Dr. Shelley Best, also an HIU alum. The Conference of Churches works to eliminate poverty by providing direct services to address social injustice and poverty.
Lydell joined the Black Ministries Program to learn from Senior Bishop Thomas L. Hoyt Jr., the program's founder, whom he refers to as "the man in African American ministries." The most valuable teaching Lydell learned in the BMP was to build relationships. Read the full story
Annie Smith '21 Starts Her Days With Empathy
As a Licensed Clinical Social Worker (LCSW), Annie Smith '21 always starts her day with empathy.
"A person can sense if you are not being authentic," Annie said. "And if you are not being authentic, this can create a huge obstacle in terms of meeting that person where they are at in their journey."
Annie meets with people between the ages of 10 and 64. She must have cultural competence, for which she seeks to remain current on different religious and cultural perspectives. "It is important because you want to be aware of differences, but you also want to be respectful of them," she said. Read the full story.