Yahya Michot
Emeritus Professor of Islamic Thought and Christian-Muslim Relations
Email: ymichot@hartsem.edu
Phone: (860) 509-9530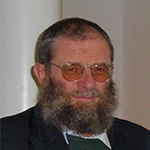 Background
Ph.D. (Catholic University of Louvain)
Areas of Study
Islamic classical thought and history
Islamic societies
Biography
Yahya M. Michot (Belgium, 1952) joined Hartford Seminary in 2008 as Professor of Islamic Studies and Christian-Muslim Relations. He is also the current editor of the journal "The Muslim World" edited by the Seminary.
From 1983 to 1997, he taught Arabic philosophy, language, history, and literature in Louvain (Belgium) and, from 1998 to 2008, Islamic theology and Arabic in Oxford (UK). He has published numerous books and articles about Islamic classical thought, drugs in Muslim societies, and Islam in the West, including "IBN SÎNÂ. Lettre au vizir Abû Sa'd" (Arabic edition & translation, 2000), "AVICENNE. Réfutation de l'astrologie" (Arabic edition & translation, 2006), "Ibn Taymiyya: Muslims under non-Muslim Rule" (2006), "Ahmad al-Aqhisârî: Against Smoking. An Ottoman Manifesto" (Arabic edition & translation, 2010), "Musulmans en Europe" (2002), and the chapter "Revelation" in the "Cambridge Companion to Classical Islamic Theology" (2008).
Dr. Michot has served as a consultant to various universities, international organizations, and official bodies in the UK. From 1995 to 1998, he was president of the Higher Council of Muslims in Belgium.
He is internationally recognized as a specialist of both the Iranian philosopher Avicenna (d. 1037) and the Syrian theologian-mufti Ibn Taymiyya (d. 1328). He has also explored the influence of Avicenna on later Sunnism and English thought, that of Ibn Taymiyya on pre-Wahhâbi Ottoman puritanism and modern Islamism.