HIU EVENTS
Abraham's Gifts: Panel and Exhibition Reception
October 24, 2022
from 6:00 PM to 7:30 PM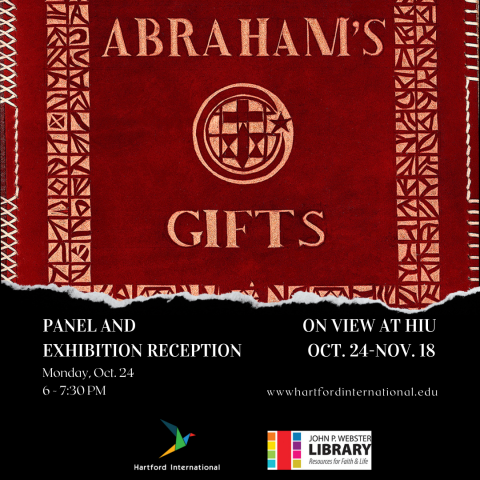 Please joins us as an interreligious panel discusses Harvey Paris's artwork, followed by a reception and viewing of the work.
Abraham's Gifts by artist Harvey Paris is a 20-page carved leather book. Each page is an original 11" x 14" leather carving. The carvings illustrates the teachings of Abraham and his impact on Judaism, Christianity and Islam.
The carvings illustrate many of the seminal and shared beliefs of the three religions. The story is told historically from Creation to Judaism, to Christianity, to Islam and finally to a conclusion worthy of a Gift to Abraham.
Our panelists - one Jewish, one Christian, and one Muslim - will speak about different panels and discuss them with the artists.
The panelists are Rabbi Barbara Paris, the Rev. Jane Willan of First Church West Hartford, and Dr. Hossein Kamaly, HIU Professor of Islamic Studies and Interreligious Studies and Holder of the Imam Ali Chair in Shia Studies and Dialogue Among Islamic Schools of Thought.
Following the panel, we invite attendees to join us in the chapel for a reception and to view the artwork.
The panel will also be livestreamed via HIU's Facebook page.
This event is co-sponsored by HIU's Macdonald Center and the John P. Webster Library, West Hartford.
About the Artist
Harvey Paris is honored to have studied chip carving with Wayne Barton, recognized as the "Father of North American Chip Carving." Chip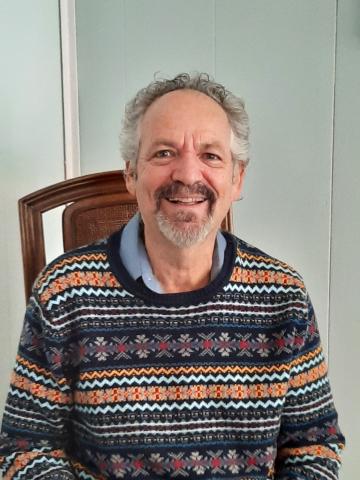 carving is the process of removing chips of wood from a flat surface to create either positive or negative designs.
Utilizing only a hand-held knife, Paris carves original designs on both wood and leather. What began as Jewish wood carvings to beautify ritual objects such as tzedakah boxes, challah boards and seder plates has evolved to reflect the shared nature of humanity as well as our common spiritual practices.
By translating wood carving techniques to leather, Paris has been able to expand the size and range of his carvings. This show includes many of Paris' larger religious carvings and features Abraham's Gifts, a 20-foot-long leather carving. Abraham's Gifts is a carved book made up of 20 original carvings that illustrate the teachings of Abraham and his impact on Judaism, Christianity and Islam. The book, carved right to left as Hebrew is written, begins with Creation and ends with a conclusion worthy of a Gift to Abraham.
When not carving, Paris is the President of Jewish Family Service in Fairfield, CT as well as the founder of a men's counseling practice. He lives in Fairfield with his wife, Rabbi Barbara Paris and their adorable Puggle, Oliver.