HIU EVENTS
Start Here: Contemplative Heart Writing for Deep Times
November 14, 2022
from 7:00 PM to 9:00 PM

Image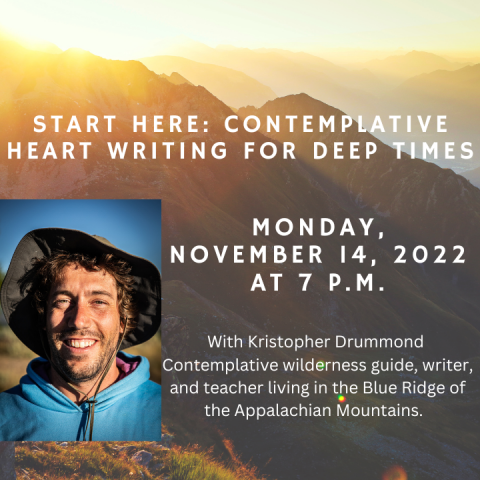 Start Here will be a two-hour, online exploration of meeting the living moment as we find it through our words. Learn from Kristopher Drummond, contemplative wilderness guide, writer, and teacher living in the Blue Ridge of the Appalachian Mountains.
Writing, the kind that counts, emerges from the living moment. It arrives as a word or a line carried on a sunbeam or a breeze in response to devoted attention; a tether connecting our interiority to the living world. To contemplate is, in the original sense of the word, to "build a temple (-template) together (con). So writing contemplatively is the act of inhabiting; a silent togetherness born of deep listening to life on life's terms.
Contemplative writing is about the felt sense. It's about communion. Earth informing writer transmitting to reader. Because words and maps can never be the territory they attempt to describe, the aim of poetry is the transmission of a specific moment, a specific place, a precise seeing from one body to another. From Jesus to Buddha to Mary Oliver, the tools of metaphor, rhythm, and careful attention have brought millions into communion with the timeless, out of abstraction and into real life.
As we slide deeper into the confusion of the 21st century, the art of contemplation becomes ever more important. Our strained planet needs people cultivated in the art of listening, and our human communities need those who are called to share what poet Robert Bly called "the news of the universe." At this late hour, we are invited by necessity to remember our deep feeling and develop our crafts of expression from that sacred place.
Start Here will be a two hour exploration of meeting the living moment as we find it through our words. Weaving between contemplative reading, outdoor explorations, and writing, we will slow down together and feel. Focusing less on the pedantics of "correct" writing and more on the beauty of truth-telling, this will be an opportunity to touch what's real for you, right now, and let words take shape from this living moment.
Tickets are $10 for this 2-hour Zoom event.