HIU NEWS
Dr. Hossein Kamaly Participates in Debate on Science and Religion
November 7, 2022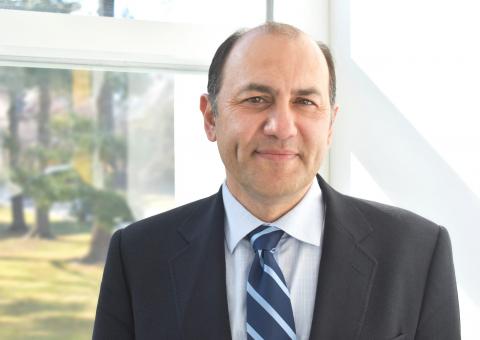 Dr. Hossein Kamaly, Professor of Islamic Studies and Interreligious Studies at HIU, participated in a virtual debate on Saturday, Oct. 29, that was the third in the quarterly debate program at the Islamic Cultural Center of Northern California. The topic was "Must There Be a Conflict Between Science and Religion." Dr. Kamaly took the "no" position while Dr. Tiddy Smith of the University of Otago took the "yes" position. The moderator was Yaser Mirdamadi of the Institute of Isma'ili Studies in London. 
The primary mission of this new Oxford-style quarterly debate program was to broaden and deepen the general public's understanding of religion, particularly Islam, in the 21st century.
After Dr. Yaser Mirdamadi's introduction, Dr. Tiddy opened the debate by arguing that the conflict lies in the different epistemological methodologies that religion and science used to explain natural phenomena. Meanwhile, Dr. Kamaly argued that in our time, we must reformulate the perceived relationship between science and religion, especially rejecting the assumption that science and religion must be in conflict. 
Both sides defended their positions sagely, turning this 1:40-minute-long debate into a must-watch video. 
Biographies
Dr. Tiddy Smith has a Ph.D. in Philosophy from the University of Otago, New Zealand, an MA, in Philosophy from the University of Auckland, New Zealand, and a BA in Philosophy from the University of Otago. He has taught philosophy at the University of Otago and the University of Indonesia.
His research interests include philosophy of science, philosophy of religion, and epistemology. His publications include "The Methods of Science and Religion: Epistemologies in Conflict," published in 2019 by  Lexington Books.
Dr. Hossein Kamaly holds the Imam Ali Chair in Shia Studies and Dialogue Among Islamic Schools of Thought at Hartford International University. Before obtaining his Ph.D.  and MA in history from Columbia University, he earned an MSc degree in Mathematics, Statistics, and Operations Research from New York University. His undergraduate degree was in Computer and Electrical Engineering from Shahid Beheshti University in Iran.
Dr. Kamaly has taught in New York City for many years. He was an Assistant Professor in the Department of Asian and Middle Eastern Studies at Barnard College and Columbia University from 2007-2017. He has also taught at the City University of New York, Hunter College, and Brooklyn College. His first book in English, God & Man in Tehran: Contending Visions of the Divine from the Qajars to the Islamic Republic, was published in 2018 by Columbia University Press. His next book, A History of Islam in 21 Women, was published in 2019 from Oneworld Publications in the UK.
Dr. Yaser Mirdamadi is a researcher in medical ethics at the Institute of Ismaili Studies, London. In 2019, he received Ph.D. in Islamic and Middle East Studies from the University of Edinborough. He has a MA in Muslim Cultures from Aga Khan University, Institute for the Study of Muslim Civilizations (AKU-ISMC)    London, UK, and a MA in Islamic Theology from Ferdowsi University Mashhad, Iran. Also, Dr. Mirdamadi completed a Level 3 Diploma (equivalent to a Master's degree) in Classical Islamic studies from Hawza Ilmiyya (Islamic Seminary), Mashhad, Iran.