HIU NEWS
Dr. Walter Earl Fluker Receives Prestigious 'Freedom of Worship' Award from Roosevelt Institute
September 26, 2023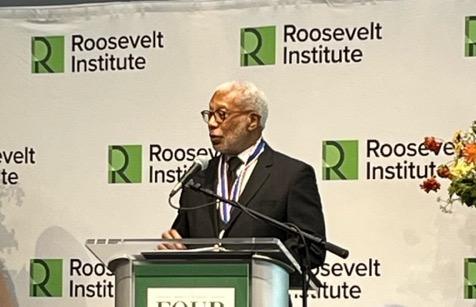 Dr. Walter Earl Fluker, Distinguished Professor of the Howard Thurman Center at HIU, was recognized as one of the most prominent American religious leaders of our time with the Freedom of Worship Award from The Roosevelt Institute on Saturday, Sept. 23, at a ceremony in Hyde Park, N.Y. His fellow award recipients included Nancy Pelosi, U.S. Representative and Speaker Emerita of the U.S. House of Representatives; Tracie D. Hall, Executive Director of the American Library Association; Bennie Thompson, U.S. Representative and Chair of the January 6th Committee; and Ady Barkan, Founder and Co-Executive Director of Be a Hero.
The Four Freedoms Awards are given to "individuals and institutions whose achievements have demonstrated a commitment to the principles which President Roosevelt proclaimed in his historic speech to Congress on Jan. 6, 1941, as essential to democracy: freedom of speech and expression, freedom of worship, freedom from want, and freedom from fear." First presented in 1982, recipients include some of the most celebrated names in modern history, including Nelson Mandela, Coretta Scott King, Harry Belafonte, and Ruth Bader Ginsburg.
Tope Folarin, Executive Director of the Institute for Policy Studies, read the citation announcing Dr. Fluker's award, adding that Dr. Fluker had inspired him to attend Morehouse College. Folarin cited Dr. Fluker's efforts to study and share the ethical framework of his own mentor, Howard Thurman, and the philosophy of non-violence that inspired Civil Rights leaders such as Dr. Martin Luther King Jr.
"As a mentor to students, you carry on their dialogue around race and worship, living out the Gospel of peace, justice, and love," he said. "Thank you for your insistence that productive dialogue about race and freedom of worship are both essential to American democracy."
Once the citation was read, Dr. Fluker went to the podium with the Freedom of Worship medal around his neck and said he was accepting the honor on behalf of his parents, who were Mississippi sharecroppers. His parents' faith, he said, gave them "a sense of ultimate security despite restraints on their other freedoms of speech, want, and fear."
"One of the most remarkable and salient dimensions of President Roosevelt's 1941 speech is that he so intimately and intricately tied these four freedoms together so that one does not stand without the others," Dr. Fluker said.
"We have varying levels and degrees of these freedoms based upon law, legislation, power, historical and social locations, but yet, we know that as long as there are people in the world who do not experience the fullness of these freedoms, we can never be free," he said, "especially those who suffer daily from injustice, inequity, and all manner of evil."
Dr. Fluker closed his remarks with a quote from Howard Thurman, who said: "You have placed a crown above my head that I shall spend the rest of my days trying to grow tall enough to wear."
A recording of the ceremony will be available at this link.
After the ceremony, award recipients and guests attended a lunch on the grounds of the Franklin D. Roosevelt Presidential Library and Museum in Hyde Park. HIU representatives included President Joel N. Lohr, Dr. Cheryl Townsend Gilkes, Vice President of Operations Lorraine Ryan, and Director of Communications Susan Schoenberger.
Congratulations, Dr. Fluker!
Four Freedoms Awards