HIU NEWS
Laurie Gaum '18 Recognized for Contributions to Unity, Justice, and Reconciliation
April 21, 2022
Image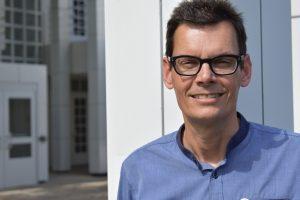 International Peacemaking alum the Rev. Louis Laurens Botha "Laurie" Gaum of South Africa has received the prestigious Jaap du Rand-Denise Ackermann Award for Unity, Justice, and Reconciliation from the Andrew Murray Prize Fund. This award is given in South Africa to "a person or persons who in a special way contribute or contributed to unity, justice and reconciliation as it amongst others finds expression in the Confession of Belhar."
After graduating from Hartford International University in 2018, the Rev. Gaum has worked unceasingly in multicultural relations and the facilitation of interdisciplinary, gender, and interfaith dialogue as an activist theologian. Currently, he works as a Facilitator, Trainer, and Project Manager at the non-governmental organization Genderworks.
The Andrew Murray Prize Fund recognized his work in this organization as a workshop facilitator in "Gender Equity & Reconciliation" and human sexuality. These workshops, among other things, guide churches and congregations on creating a safe and healing space between "straight" and "queer" believers. Furthermore, the Rev. Gaum strives to promote respect among people of different faiths with interfaith initiatives. 
Also, the Andrew Murray Prize Fund stated that "he was the first applicant in the Gaum vs DRC court case to set aside the negative decision of the 2016 Extraordinary General Synod of the Dutch Reformed Church, with the High Court finding unfair church discrimination against LGBTQIA+ people unconstitutional."
In 2019, the Rev. Gaum was one of a group of Dutch Reformed Church clergy and members who won a high-profile case against the church's policy on same-sex marriages. The Rev. Gaum, his father Dr. Frits Gaum, and eight members of the Dutch Reformed Church sued in the High Court in Pretoria to have the church's 2016 decision rejecting same-sex marriage set aside.
The court said the church's policy against same-sex marriage was "unlawful and invalid." It also allows members of the church who are in same-sex relationships to become ministers.
Congratulations, Laurie!