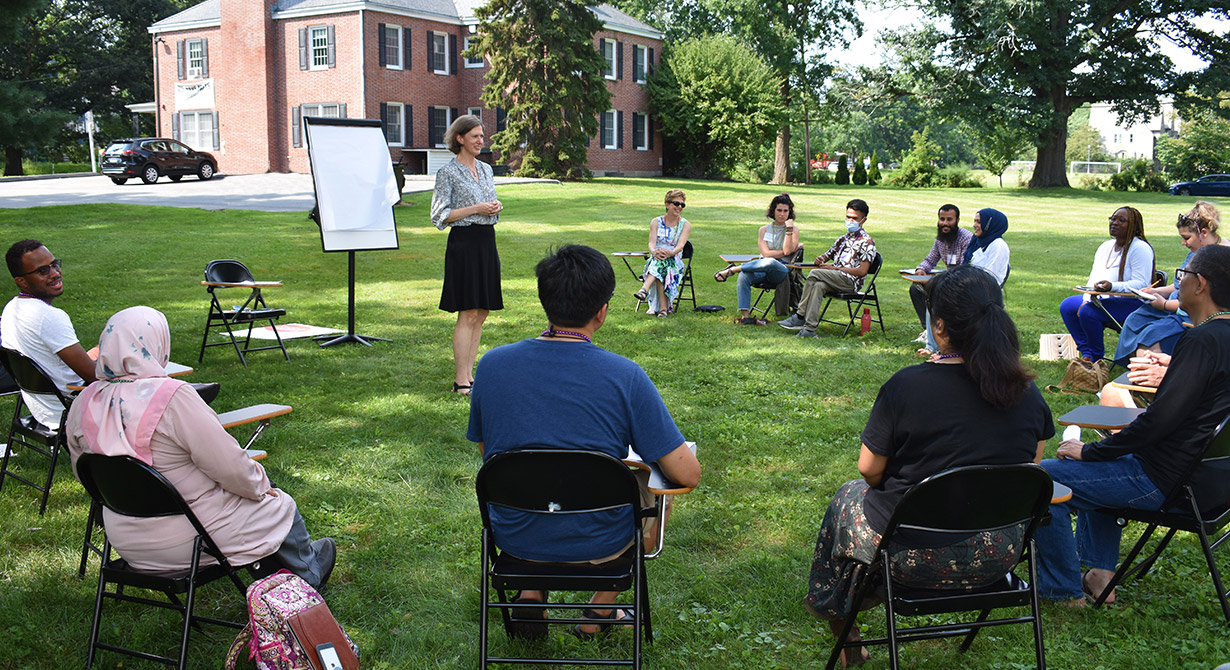 From exploring constructive conflict intervention to examining passages in religious texts that have led to current and historic incidences of violence, our Master of Arts in International Peacebuilding program deeply engages students in a skills-focused application of interfaith learning that changes behavior and drives lasting change. Scholarships may be granted to eligible MAP students to help cover the cost of tuition and housing and provide a small living stipend.
You will graduate with the confidence to lead grassroots community peace and reconciliation initiatives. You will be part of an international student cohort focused on building the knowledge and skills to address local conflicts in your home communities. You will hone your interreligious literacy and conflict transformation skills through case studies, role-plays of real-world examples, public speaking opportunities, service in social justice and religious organizations, and completing a capstone project. 
Program Structure
The Master of Arts in International Peacebuilding is a one-year, residential, 36-credit, master's degree program where students develop interreligious literacy and acquire constructive conflict intervention skills through a combination of service-learning, traditional courses, experiential courses, and project-based learning. Students live in interfaith housing on campus.
Where Your Journey May Lead
MA in International Peacebuilding Career Paths
Lead a Faith Organization
Engage in Social Services
Work in International Affairs
Courses you may take
Here is a small sample of courses students in the program take. To view the entire course listing, use the link below.
The Value of Experience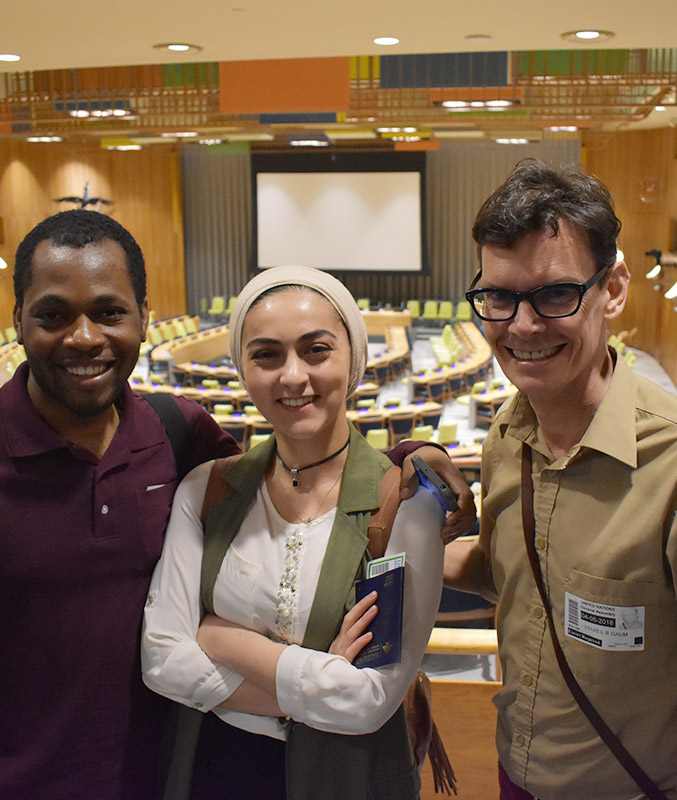 Projects and Action Plans
Our students complete their degree with a capstone project or personal action plan. Students who are returning to communities they know well can work on a project that arises from a need in that community. Students going into a new community will work on a personal action plan. They will map out their own theory of change as a peacebuilder, and plan how they will apply what they have learned at Hartford International to become an agent of change in their new community.
Faculty
Our faculty bring years of academic and practical experience teaching and serving communities of different faiths through complex conflicts around the world. They are award-winning authors, scholars of religion, and passionate leaders in conflict transformation, with teaching and research experience that makes them experts in their fields. They have spoken about their research on international stages, emphasizing sociological contexts, religion and recovery from trauma in the modern world.
Learn More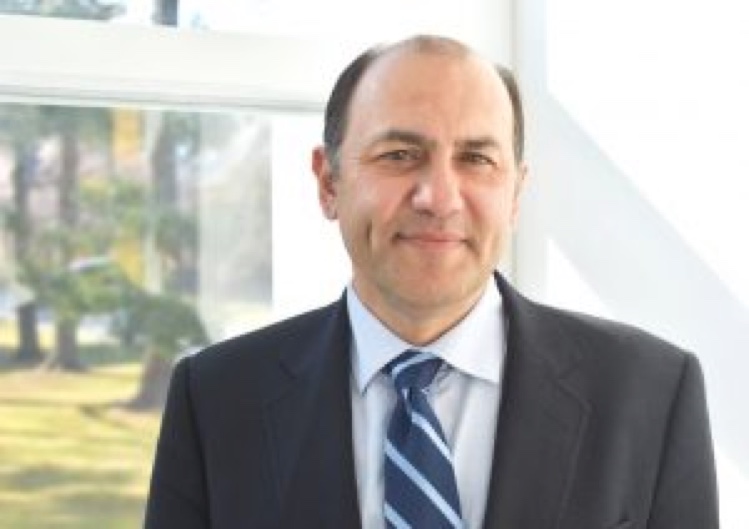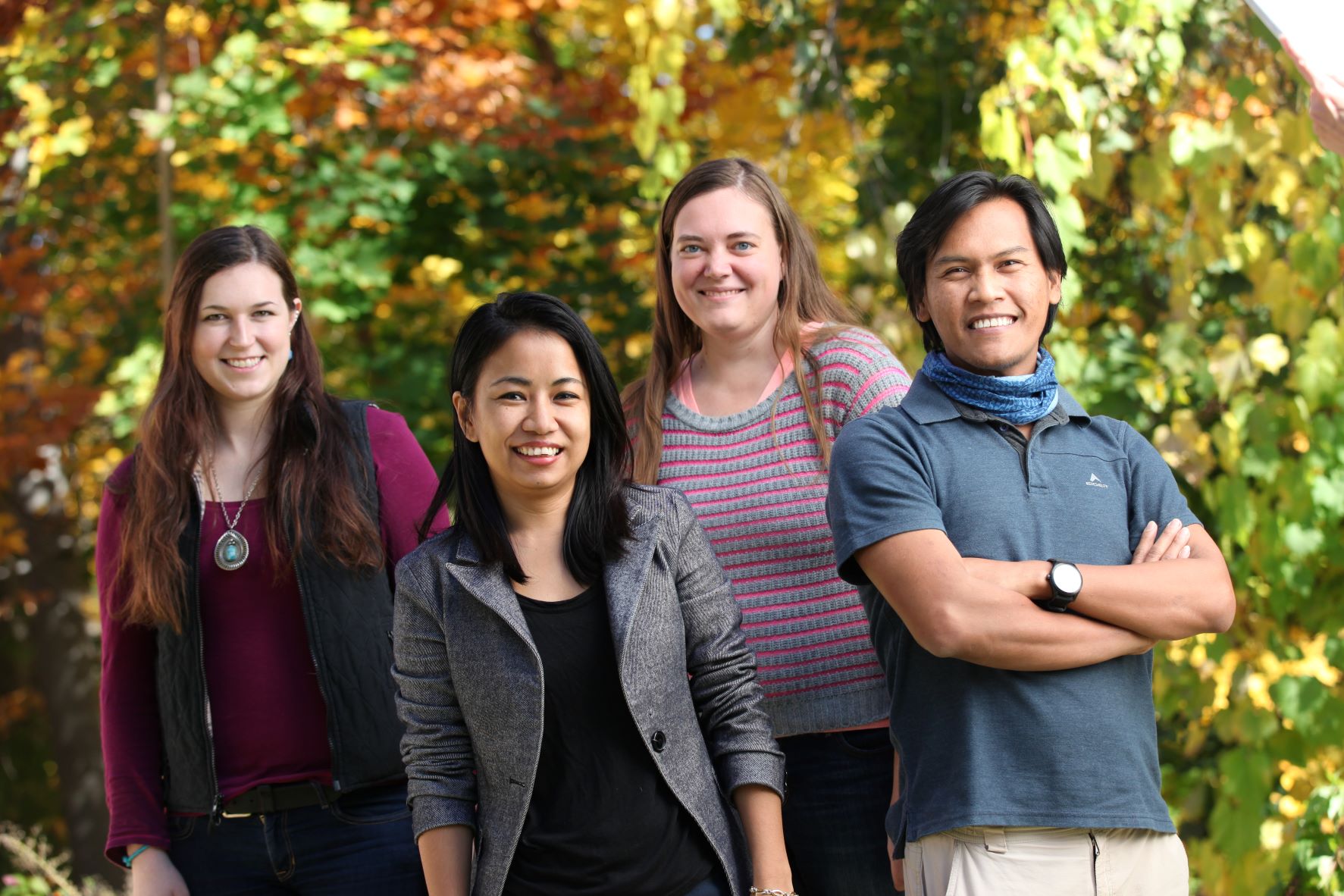 Alumni
With a foundation in interreligious thought, dialogue and critical thinking, our alumni are set on a path to many fields such as social justice, education, international and domestic policy, human rights, community organization, social work, nonprofit leadership and psychology.
Learn More
The People Who Thrive Here
Peacebuilders have a thick skin, a tender heart and a spine like a steel cable; an emotional intelligence, humility and sensitivity to make sense of the ambiguous spaces between us; a collective approach to religious freedom and justice. Our MA in International Peacebuilding is built by faculty and designed for students who come here from all over the world with a calling to transform conflicts and bring peace to communities near and far.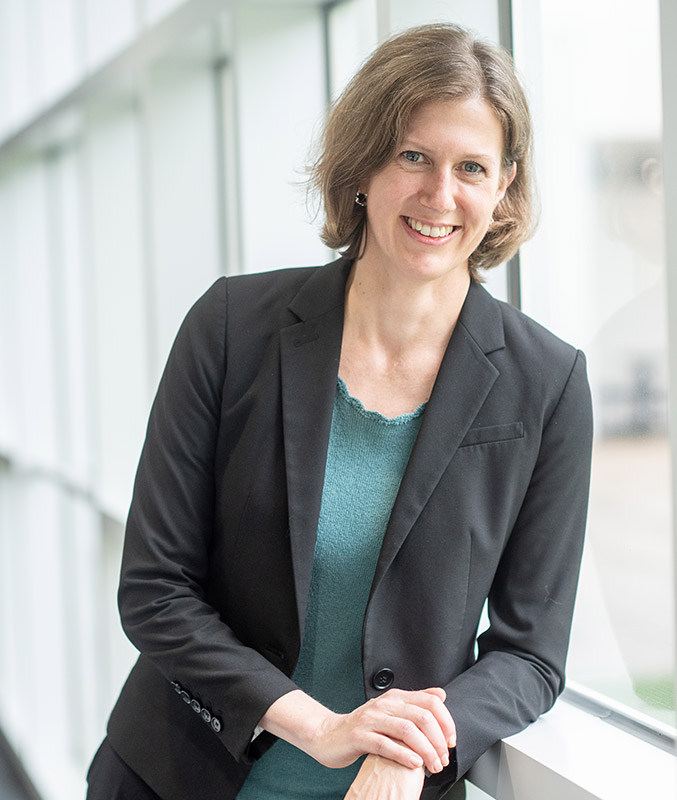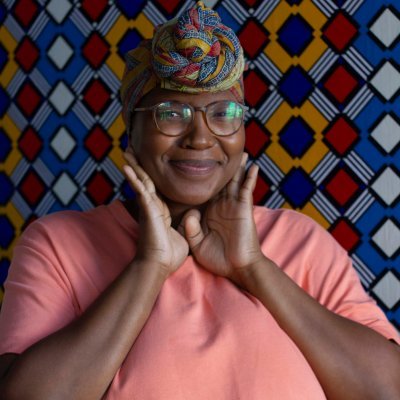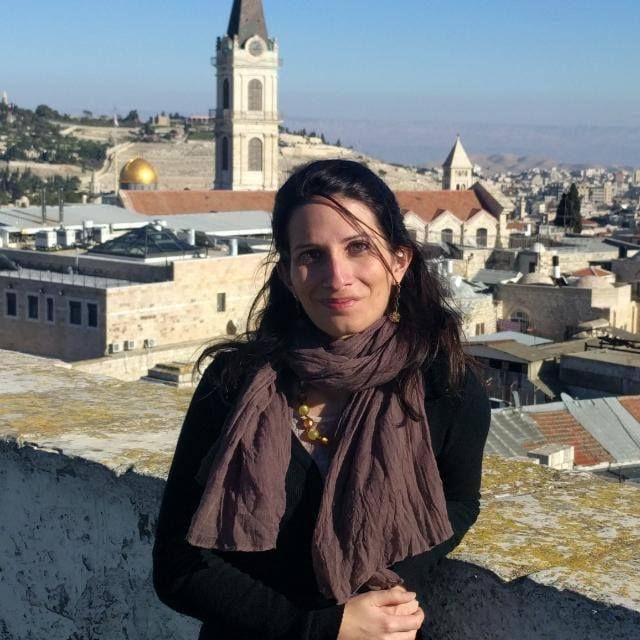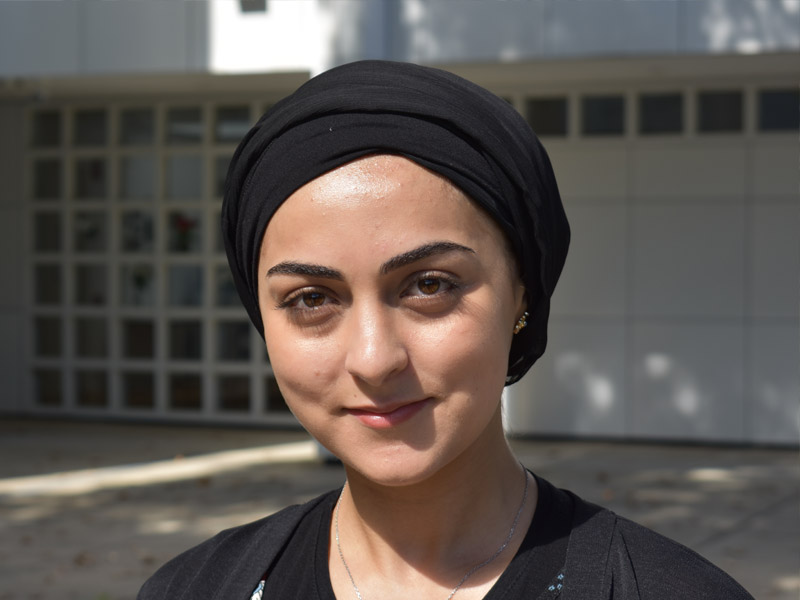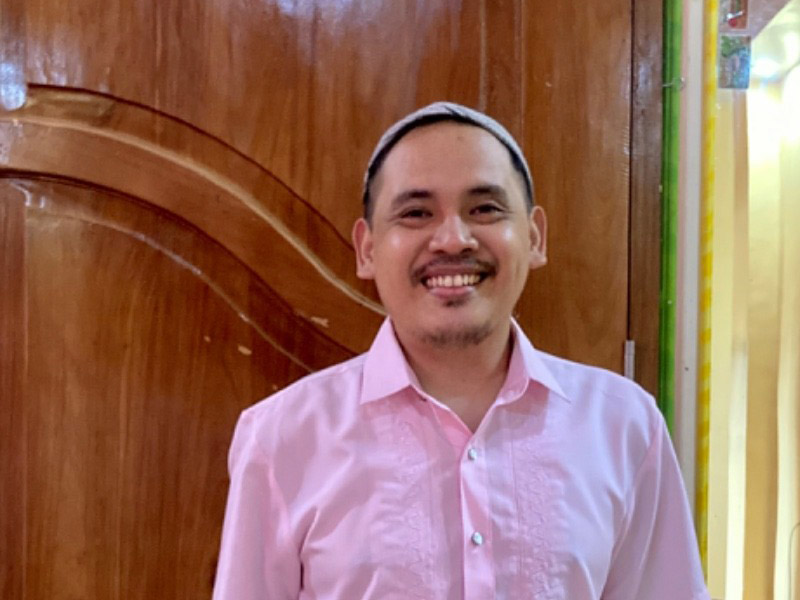 Phoebe Milliken, Faculty Associate in International Peacebuilding, Director of the International Peacebuilding Program
She has developed literacy programming in Zimbabwe, managed a teacher education project spanning 25 countries in Eastern Europe and Central Asia for the International Literacy Association, taught courses in African History in the U.S., directed Augsburg College's study abroad program in Namibia and served as a Program Manager for Plowshares Institute, a small non-profit which taught conflict transformation skills to community leaders around the world.
Ayanda Nxusani '16
A scholar interested in transitional justice, with a special focus on violence prevention, peace, trauma healing and reconciliation for both victims and perpetrators of gross human rights violations, Ayanda is currently Senior Facilitator for the University of Cape Town – Global Citizenship Programme, a co-curricular program providing students with an opportunity to engage critically with contemporary global debates and to reflect on issues of citizenship and social justice, and participated in the International Higher Education Interfaith Leadership Forum.
Elena Dini '14
​​As Senior Program Manager of the John Paul II Center for Interreligious Dialogue based in Rome, Italy, Elena is part of the leadership team supporting the Russell Berrie Fellowship in Interreligious Studies and more than 100 alumni of the program who are now John Paul II Leaders in Interreligious Dialogue around the world. She helps strengthen partnerships with other organizations working in the field of interfaith dialogue.
Fatima Hallal, '18
Joining 900 religious leaders, activists, peacemakers and youth from around the world at the 10th World Assembly of Religions for Peace in Germany, Fatima was nominated to represent the Middle East and North Africa on the organization's international youth committee. The event draws on action points to enhance positive peace, transform violent conflict, promote just and harmonious societies, promote integral human development and protect the earth. Fatima adds, "as for now we are in the process of putting strategies to increase our network and identify youth leaders working on religions and peace.
Acmad Macarimbang
Coming from the Philippines, a country where Muslims and Christians live together despite their differences in culture and belief that largely rooted in politics and negative perceptions handed down centuries ago, Acmad was interested in studying Islamic Studies and Christian-Muslim Relations. When he returned home, used these insights to draft a syllabus introducing the comparative study of religion at his university in the Philippines and then was hired as a research officer for an international Islamic seminary in Manila.
Opportunities & Highlights
Admission Information
APPLICATION DEADLINE
December 15th for non-U.S. citizens
February 1st for U.S. citizens
Take the Next Step
Broaden your perspective. Deepen your ability to make a difference. Hartford International University programs prepare religious leaders and peacemakers who go beyond their own beliefs to embrace people of all faiths.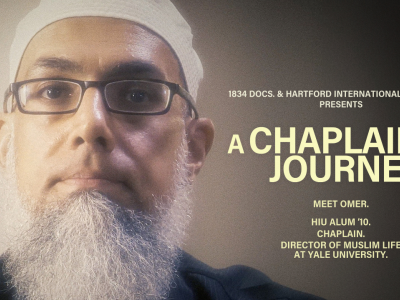 General HIU News
December 5, 2023